Italy
Dolomites
Conquer spectacular mountain climbs in the Dolomites and Italian Alps
Explore the legendary climbs and landscapes of one of the most scenic mountain regions in the world.
If you're the type of rider who likes to earn your views (and your pasta), this cycling trip through Northern Italy's magnificent mountain range is calling your name. You'll start in the heart of the Dolomites, surrounded by the sheer cliffs, jagged peaks, and switchbacks made famous by the Giro d'Italia. Climb some of the most famous mountain passes in the area and be rewarded with sweeping descents and nonstop, jaw-dropping views of the valleys below. Midway through the trip, we'll transfer to Bormio, a charming village in the Alps where you'll have the opportunity to discover more of the incredible, challenging terrain of this special region.
Highlights
Daily guided and supported rides through the Dolomites and Italian Alps

Climb four iconic passes—Campolongo, Pordoi, Sella and Gardena—that are regularly highlighted in the Giro d'Italia

Hike to a picnic lunch in the mountains

Explore the quaint villages of Corvara and Bormio

Eat breakfast, lunch and dinner featuring authentic Italian mountain cooking
Food
You'll taste the flavors of Italy, Austria, and Germany throughout the trip, starting with breakfast at the hotel every morning. The Cycling House staff will prepare a healthy and hearty lunch, and after a day of riding, we'll finish with authentic meals at a mix of local restaurants.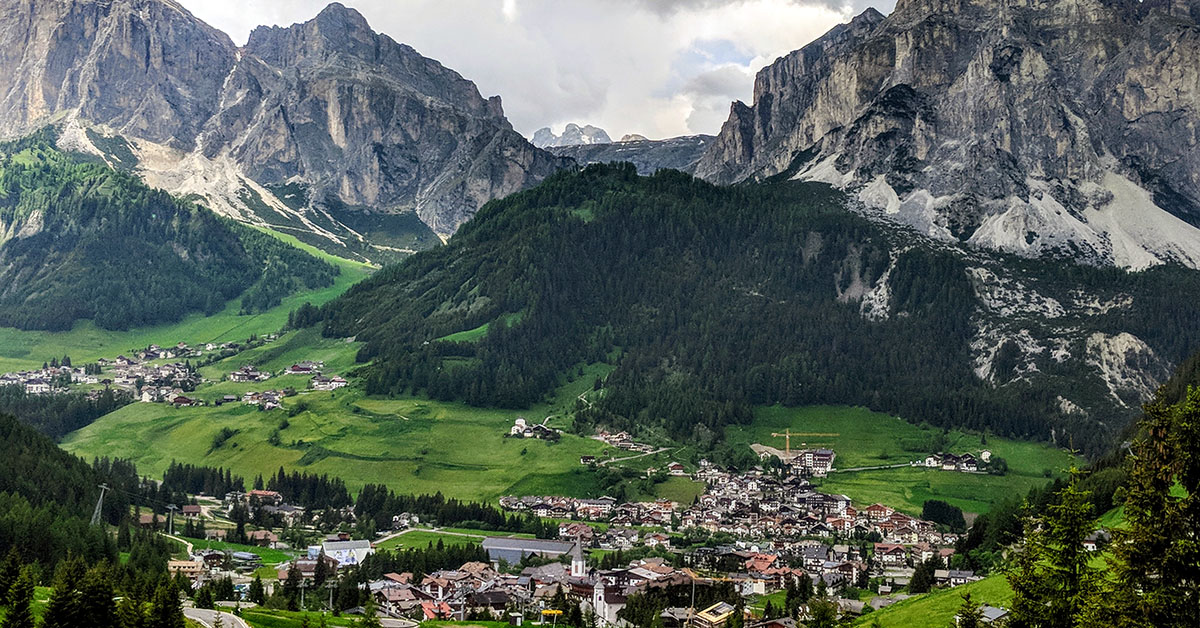 Accommodations
The trip is split between Corvara (Dolomites) and Bormio (Alps), which both offer authentic experiences of the local culture through their comfortable rooms, cuisine, and hospitality. In Corvara, we'll stay at La Tambra. In Bormio, we'll stay at Agriturismo Rini, which is part hotel and part farm—complete with 60 Brown Swiss cows that provide fresh milk, yogurt, and cheese for the onsite farm-to-table restaurant. (Be sure to visit the general store to try some of the farm's homemade products.) Surrounded by Stelvio National Park, the alpine-style accommodations also come with baked-in mountain views off your balcony.
Day 1
Welcome to Italy!
Riders arrive in Venice, and we will shuttle everyone to our hotel in Corvara. Plan on a 3.5-hour transfer with stops. After settling into our accommodations, we'll go for an afternoon spin followed by dinner and a tour briefing.
Today's ride:
Arrival day spin. We'll make sure the bikes are running well and your legs are ready for a week in the mountains.
Day 2
Sella Ronda Loop
Expect spectacular views on the Sella Ronda loop, one of our favorite rides. We will pedal in the shadows of the Sella massif and its sheer cliffs. We'll tackle four passes, all regular highlight stages in the Giro d'Italia: Campolongo, Pordoi, Sella, and Gardena.
Today's ride:
Sella Ronda loop: 32 miles, 5,480 feet of elevation
Day 3
Passo Gaiu & Falzarego
Today brings another opportunity to ride in the heart of the Dolomites. On this 32-mile route (longer distance optional), we'll ride the second part of the Maratona delle Dolomiti, an annual bike race that covers seven mountain passes in one day. The 10-kilometer-long Passo Giau is one of the harder climbs in the Dolomites with an average grade of 9%(!). The last climb, Passo Falzarego, will bring us to the site of an historic battle during World War I. We will return to Corvara on a technical and scenic descent.
Today's ride:
Passo Falzarego: 32 miles, 4,500 feet of elevation
Passo Giau Route: 51.5 miles, 8,200 feet of elevation (this is the longer option)
Day 4
Transfer to the Italian Alps, climb the Stelvio
We'll transfer as a group from Corvara to Bormio—a village at the center of the Italian Alps—and drop riders at the base of Stelvio Pass to climb the big, beautiful mountain that tops many road cyclists' bucket lists. After 47 switchbacks up and a well-deserved 25-kilometer descent, the ride finishes in Bormio at our new home base, the Agriturismo Rini.
Today's ride:
Passo Stelvio: 30 miles, 6,150 feet of elevation
Day 5
Recovery day, picnic lunch in the mountains
After a few big days of climbing, we'll take a recovery day. We found an awesome little refuge up in the mountains that takes about 45-60 minutes to hike. We'll have lunch prepared at the refuge and enjoy a relaxing afternoon. Also, those who don't want to take a day off have another great ride option to Lagi di Cacano. 
Today's ride:
The main plan is to take a day off the bike and hike to a refuge.
Those who want to ride will have another great ~20-30 mile ride option.
Day 6
Passo Gavia
Plans are subject to change for our last day, but one thing's for sure: We'll be climbing the Passo Gavia! The 10.8-mile climb has an average grade of 7.8%. It's a challenging mountain with little traffic, making it a wonderful way to finish our big tour on the bike.
Today's ride:
Out-and-back option: 33 miles, 4,965 feet of elevation gain.
Big loop option: 62 miles, 10,360 feet of elevation gain (We climb the Motorolo on this loop.)
Day 7
Ciao!
On our final day, we'll transfer the group to the closest train station in Tirano, about 40 minutes away from Bormio. Riders can decide where they want to go in order to depart Italy or to start the next chapter of their trip. Many past riders have stayed a night in Milan, the closest large city to the end of the trip. Those who have a round-trip ticket in and out of Venice can catch a 5-hour train ride back there. We suggest staying in Italy on the night of The Cycling House departure day.
Today's plan:
Shuttle from Bormio to Tirano
Jun 14 - 20

$4,550 / Person

Jun 23 - 29

$4,550 / Person

Sep 20 - 26

$4,550 / Person

We'd love to help you plan a dream cycling trip for you and your riding crew.
What's Included
7 days/6 nights accommodations (double occupancy)

Transfers from Venice (start) and Tirano train station (end)

All meals (breakfast, lunch, dinner) for 7 days

Mechanical support (including bike build and breakdown)

Professional trip guides

Daily sag support

Ride nutrition products

High-quality ride photos

Question about COVID-19 and what we're doing to keep our guides and guests healthy and safe? Contact us.
What's Not Included
Airfare

Bike rentals

Gratuity for guides

Alcoholic drinks with meals

Mid-ride café stops

Personal shopping 

Bike rental 

Single occupancy (+$)
Optional Activities
Trail runs or hikes 

Core/stretching sessions

Exploring the mountain villages of Northern Italy
Questions?
Have more questions? View our FAQ page or call us at 406-312-5770.
SEE ALL FAQs
Rent A Bike
Traveling through the airport with a bike—and paying for it to fly—is not everyone's idea of a fun way to start a vacation. Fortunately, we offer high-quality, full carbon bikes on all of our trips across the United States and Europe. Want to just show up and ride? Just bring your shoes, pedals, helmet, and saddle (if you want), and rent one of ours.
Available this trip:
Bring Your Own
Your bike is yours—we get it. Bringing your own bike has obvious advantages in terms of individual comfort. Before your trip, we suggest getting a tune-up at your local bike shop so it's ready to roll for your week of riding. Once you arrive, we'll be sure to have our mechanics build it and help with any necessary tweaks. Check out some helpful resources here:
Skip The Bike
If you or your travel partner want to enjoy the trip and explore a new destination without a bike, drop us a line and we'll discuss options. Some trips are better suited for non-rider participants than others.
Share your trip experience with others by leaving a review.
LEAVE A REVIEW
Paul S., West Roxbury, MA
July 2, 2019
I've traveled with TCH for years and each experience exceeds the last. Rides on this trip were epic!
Rebecca M., Anchorage, AK
July 1, 2019
Love these guys, loved the trip and our group was fantastic! The accommodations were excellent and the beds were outstanding. Two thumbs up for excellent beds! The food was all wonderful and the guides were awesome. Planning my next trip now :)
Show All Reviews
Paul S., West Roxbury, MA
July 2, 2019
I've traveled with TCH for years and each experience exceeds the last. Rides on this trip were epic!
Rebecca M., Anchorage, AK
July 1, 2019
Love these guys, loved the trip and our group was fantastic! The accommodations were excellent and the beds were outstanding. Two thumbs up for excellent beds! The food was all wonderful and the guides were awesome. Planning my next trip now :)
Mark R., Rosewell, GA
July 5, 2019
This was an 11. It was really as good as cycling can get and every detail was taken care of. I greatly appreciated the choice of food and great food. As usual, all the guides were fantastic - TCH is beyond good with that. I can't say enough about this trip. Thanks again for everything.
Scott N., Park City, UT
July 6, 2019
Incredibly well organized, well planned, well thought out trip. The ability to accommodate riders with different desires for riding was awesome! I'd highly recommend the trip to anyone and the ability to use e-bikes, makes these trips great for couples of differing abilities. Many thanks to all the staff! The trip went off VERY WELL.