Italy
Strade Bianche Gravel
Watch the pros race the Strade Bianche Gran Fondo, then ride it yourself
Ride the white, unpaved roads that wind through the Tuscan countryside.
We've added a new twist to our Tuscany itinerary and included more sections of the famed white roads (aka "strade bianche") of the Italian countryside. Legends have been made on these roads during the Strade Bianche, a one-day classic bike race that has become one of the most anticipated and watched professional cycling events. Our trip will highlight some of our favorite sections of the race and sprinkle in a few lesser-known segments of gravel.
On Friday, we will pre-ride the last 50 km of the Strade Bianche course—and likely spot a few professionals doing their final reconnaissance. On Saturday, we will do a short ride then watch the men's and women's professional races at several locations, stopping mid-day to fuel up with a homecooked pasta meal. We will be sure to catch the final kilometer, where racers sprint up a 25% grade into the walls of Sienna for the finish in Piazza del Campo. You can't get much closer to the action! On Sunday, we will ride/race the twisty and undulating Strade Bianche Gran Fondo (80 or 140 km courses).
Highlights
Daily guided and supported rides among vineyards and olive groves with an emphasis on the Strade Bianche, the white gravel roads of Tuscany

Watch the Strade Bianche pro race on Saturday
Ride the Strade Bianche Gran Fondo on Sunday

Eat family-prepared meals by our Italian hosts, including pizza made in a wood-fired oven

Stay in cozy bed-and-breakfast accommodations off the beaten path

Explore Siena, taste wine and try the local cuisine

Take part in an authentic Italian cooking class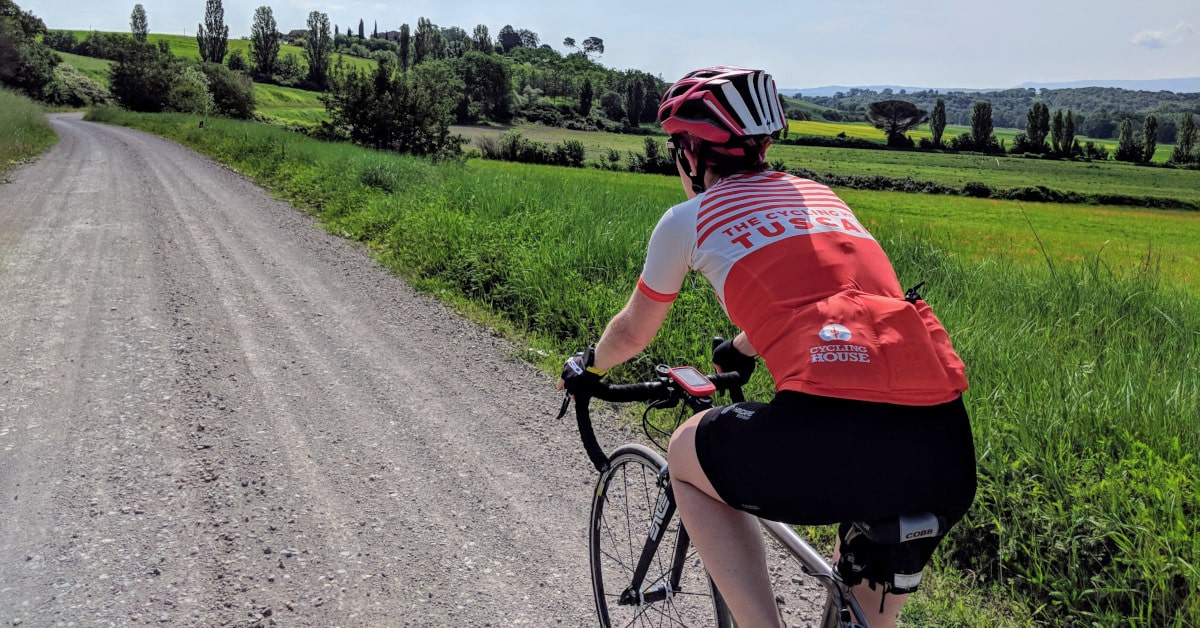 Food
It doesn't get more authentic than this: Our food in Tuscany is prepared fresh by the Italian family who runs Palazzo a Merse, the bed and breakfast where we stay. Many of the meats are sourced from a farm down the road, and the veggies are grown in the field behind the property or by the neighbors across the street. Meats are cooked over an open flame, and pizzas are prepared in a 500-year-old wood-fired oven. Family B&B meals are balanced with dining out to enjoy the local cuisine.
Accommodations
Meet your new extended family at Palazzo a Merse, a restored 18th-century farmhouse bed and breakfast where we'll spend the week. Owned by our guide Andréa Rossi and his wife and sister's family, the rustic Tuscan B&B is about 10 kilometers from Siena in the quiet countryside of Val di Merse. Relax in the spacious, shady garden, or enjoy breakfast or a glass of wine as you lounge around the outdoor pool. Family-style meals are cooked by our hosts and served outside when the weather allows.
Day 1
Welcome to Tuscany!
Riders will arrive at the Florence Airport or the Siena Train Station, and we will shuttle to B&B Palazzo a Merse.
Anyone renting a car can arrive at the B&B any time after 11 a.m. We'll head out for an arrival day spin (~2 hours) to explore our surroundings for the week.
Today's ride:
Arrival day spin:
21 miles, 1,044 feet of climbing
Day 2
The Heart of Tuscany Gravel - Pienza
Today we ride point to point through the heart of Tuscany, with a stop in Pienza. The ride features quintessential Tuscany landscapes with cypress-lined gravel roads and spectacular views of the beautiful countryside. The ride will finish in Montisi, where we will enjoy lunch at one of our favorite cafés before shuttling back to the bed and breakfast.
Today's ride:
The Heart of Tuscany Gravel: 42 miles, 4,300 feet of climbing
Day 3
Chianti Gravel
Learn more about the legend of that famous black rooster as we take a tour of the Chianti region. We'll shuttle to the start, and mid-ride, we'll enjoy a coffee stop in the village of Gaiole, where the Eroica Gran Fondo starts and finishes. The route finishes in the medieval village of San Gusme, where we'll enjoy lunch.
After lunch, we'll return to the B&B, where the family will host a cooking class. You'll learn how to make homemade pasta and tiramisu (among other dishes), so when you host your next dinner party, you can show off your new skills!
Today's ride:
Chianti Gravel: 38 miles, 3,900 feet of climbing
Day 4
Pre Ride Last 50km of Strade Bianche
In the late morning, we will shuttle to Sienna and pick up our packets for the Strade Bianche Gran Fondo before riding. We will depart by bike from Sienna and ride the final 50 km of the race, finishing with lunch in Sienna before shuttling home.
Today's ride:
Pre-ride Strade Bianche: 31 miles, 3,900 feet of climbing
Day 5
Short Ride & Watch Strade Bianche
Today's agenda is going to be incredible! We will start the morning with a short ride before we catch the action at the Strade Bianche professional race. Post-ride, we will shuttle to Sienna to watch the pre-race team presentations then it's off to the races. Fortunately, we have Andréa Rossi (lead Italian guide), and he knows all the best spots for viewing the races. Mid-day, we will take a break to return to the B&B and enjoy lunch before seeing the rest of the ride and grand finale into Piazza del Campo. The atmosphere at the end of the ride will be electric!
Today's ride:
Local loop: 20ish miles, 1,500 feet of climbing
Day 6
Strade Bianche Gran Fondo
Today guests will ride either the Gran Fondo or the Medio Fondo, which are great options! In the morning, we will shuttle all the riders to Sienna for a start. Post-ride, we will regroup in Piazza del Campo to celebrate our amazing day on the white roads of Tuscany with pizza, beer, and wine.
Today's ride:
Gran Fondo: 89 miles (34 miles of gravel), 7,38o feet of climbing
Medio Fondo: 54 miles (13 miles of gravel), 4,400 feet of climbing
Day 7
Ciao & Grazie!
Checkout is 11 a.m. Riders will pack up, and we'll shuttle back to the Florence Airport or the Siena Train Station for departures.
Today's plan:
Shuttles to Siena and Florence
2024

Feb 27 - Mar 4

$4,345 / Person

We'd love to help you plan a dream cycling trip for you and your riding crew.
What's Included
7 days/6 nights accommodations (double occupancy)

Airport transfers to/from Florence International Airport (FLR)

All meals (breakfast, lunch, dinner) for 7 days

Wine tasting

Mechanical support (including bike build and breakdown)

Professional trip guides

Daily sag support

Ride nutrition products

High-quality ride photos

Entry into Strade Bianche Gran Fondo
What's Not Included
Airfare

Bike rentals

Gratuity for guides

Mid-ride café stops

Personal shopping 
Optional Activities
Wine tasting
Tuscan cooking class
Questions?
Have more questions? View our FAQ page or call us at 406-312-5770.
SEE ALL FAQs
Rent A Bike
Traveling through the airport with a bike—and paying for it to fly—is not everyone's idea of a fun way to start a vacation. Fortunately, we offer high-quality, full carbon bikes on all of our trips across the United States and Europe. Want to just show up and ride? Just bring your shoes, pedals, helmet, and saddle (if you want), and rent one of ours.
Available this trip:
Bring Your Own
Your bike is yours—we get it. Bringing your own bike has obvious advantages in terms of individual comfort. Before your trip, we suggest getting a tune-up at your local bike shop so it's ready to roll for your week of riding. Once you arrive, we'll be sure to have our mechanics build it and help with any necessary tweaks. Check out some helpful resources here:
Skip The Bike
If you or your travel partner want to enjoy the trip and explore a new destination without a bike, drop us a line and we'll discuss options. Some trips are better suited for non-rider participants than others.