We're heading into our 15th year of running cycling trips in Tucson, Arizona, and our passion for sharing this place with fellow riders gets stronger every year. September is knocking at the door, and these waning days of summer mark the time at The Cycling House when we start planning our winter season in Tucson, Arizona. Laidback and fun, this winter riding destination makes it easy to focus on cycling, eat great food and relax for a few days. Our Tucson trips have been the heart and soul of TCH since 2005, and we're confident you'll quickly discover why it's such a special place to experience by bike. 
What Makes The Cycling House Tucson Special?
The House
This is the original TCH concept that planted the seed that eventually bloomed into all of our riding experiences across the globe. Our goal is to create a fun, familial atmosphere permeating the whole house. The home base model offers something much more meaningful compared to hotel-based vacations. At TCH Tucson, you settle in, meet new friends and share stories in a comfortable home setting we return to after riding – meaning no packing your luggage and moving on each day. That translates to more time to relax on the huge patio on a porch swing, soak in the pool or hot tub, and smell the fresh, gourmet meals being prepared in the kitchen.
View all of our 2020 Tucson Trip Dates
The Food
Speaking of food, we focus on providing healthy and exquisite meals at all of our Tucson camps. This takes more time and effort on our end, but it pays off when you're enjoying a superb meal after a superb ride in the desert.
We have an in-house chef who provides freshly prepared food every day. We eat family-style: all together at one big table. We've always enjoyed breaking bread this way, and it has a profound impact on our trips. So count on us to take care of a healthy breakfast to get you going, lunch to sustain your energy and a dinner that will satisfy any hunger. We are sure to accommodate all dietary preferences and restrictions.
Supporting the Tucson food community
One of our goals is to support the Tucson community, which means working directly with folks who source local and regional ingredients. Since we prepare food specifically for endurance athletes, we focus on healthy, lean proteins, lots of leafy greens and root veggies, and plenty of flavorful sides. Our chefs create dishes inspired by recipes from around the world, so each meal is diverse, interesting and – above all else – delicious!
The Rides and Terrain in Tucson
The major reason why we love riding in because of the variety of routes this place has to offer. The Tucson valley is surrounded by the Santa Catalina, Tucson, Rincon, Tortolita and Santa Rita mountain ranges, which offer incredible terrain for cycling. TCH is situated in the northeast corner of Tucson at the foot of the Santa Catalina and Rincon mountains. Mount Lemmon is the most famous ride in Tucson, and the route up the mountain is right out our back door. That ride climbs more than 5,000 feet in 20 miles, taking you from the Sonoran Desert into the Ponderosa Pine forests over 8,000 feet in elevation.
There are many other amazing cycling rides in Tucson. See all of our ride routes here.
The Cycling House Guides
All of our guides are accomplished athletes who excel in their care and concern for every TCH guest. We have two or three guides on each ride, along with a van or two, so support is significant. The we-take-care-of-everything approach, which begins the moment our guests arrive, empowers our riders to be "selfish" during their time here and focus on riding, exploring, learning and soaking up experiences in Tucson.
In addition to riding, while back at the house we have an optional evening bike mechanics class, where you learn how to work on your own bike. We also put together an evening clinic covering descending and cornering before we ride Mount Lemmon.
Our Guests
"It was the most amazing week I have had in a long time. The staff was incredible and knowledgeable. The accommodations were amazing. The food was absolutely fantastic. And it was so much fun meeting and conversing with some interesting people. I already signed up for next February." Celeste – New Hampshire
The Sonoran Desert
Vitamin D – It's an elusive nutrient in the wintertime. The American Southwest, however, has copious amounts of it compared to many other places in North America. Though we can never predict the weather, there's a pretty good chance you're going to leave Tucson with tan lines. But sunshine isn't the only great thing about the desert. Here's a list of a few other highlights:
The animals – It's common to see the javelina, deer, roadrunners, and coyotes. It's less common, but you may catch a glimpse of a desert tortoise, bobcat or Gila monster.
The sunsets – In my opinion, there are no better sunsets than those in Tucson, Arizona.
The cacti – How these plants can survive and thrive in this environment is mind-boggling!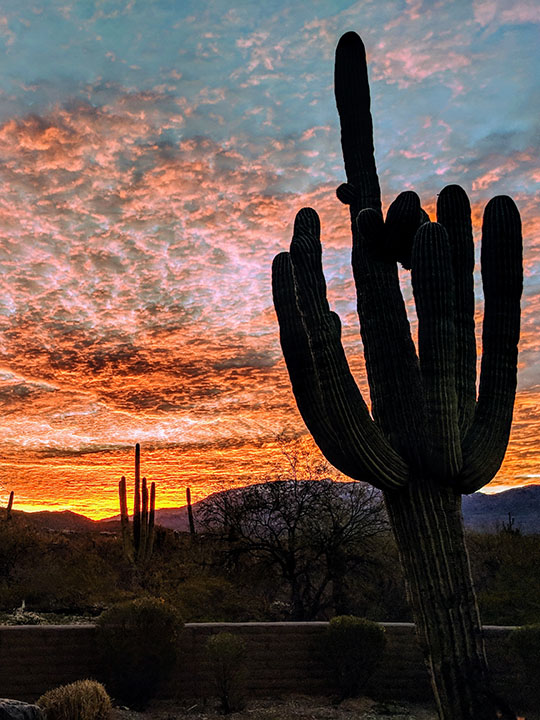 Now is the time to start planning your sunny desert cycling escape to Tucson with us!
Request a detailed Tucson camp itinerary here.
Have more questions? drop us a line.
Ready to book? Start planning your desert getaway now.
Thanks for reading! We'd love to have you along for the ride!